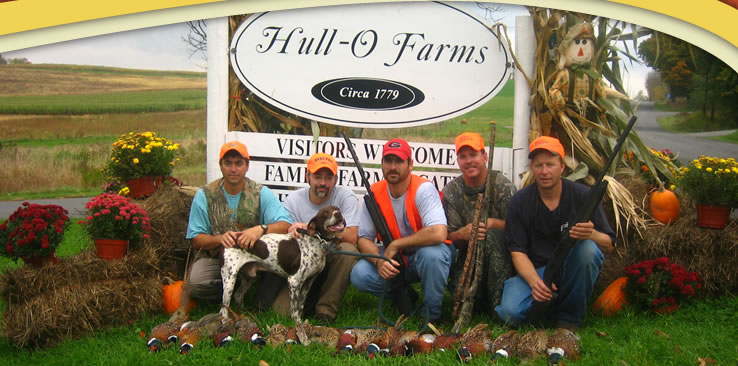 Hull-O Farms Pheasant Preserve has more to offer than just pheasant hunting in the Northern Catskill Mountains. It's the perfect place to get away to hunt fair-chase, wild white-tailed deer and eastern wild turkey. After hunting, relax in private accommodations with great food and country hospitality. The Pheasant Preserve is located at Hull-O Farms, a working farm run by the Hulls, the same family that's been hunting and working this land in the Catskills for over 200 years!

Hunting Packages
Whether you are a novice, seasoned hunter, or corporate executive entertaining clients, there are several hunting packages to choose from. Both deer and turkey packages include hunting, three meals daily, and private, deluxe accommodations.

The Setting
With over 300 acres in the Northern Catskill Mountains, Hull-O Farms Pheasant Preserve has scenic views with acres of crops for both feed and cover for white-tailed deer, wild turkey, and our Pheasant Preserve.

The Farmhouse
The farmhouse is where three delicious, farm-fresh meals are prepared daily for our hunters and guests. A recently added Great Room with cathedral ceilings and a wrap-around porch allows guests to relax and swap stories after an exciting day of hunting in the Catskills.

Private Accommodations
Complete with woodstoves and all the major conveniences, your stay with us will be rewarding and comfortable.