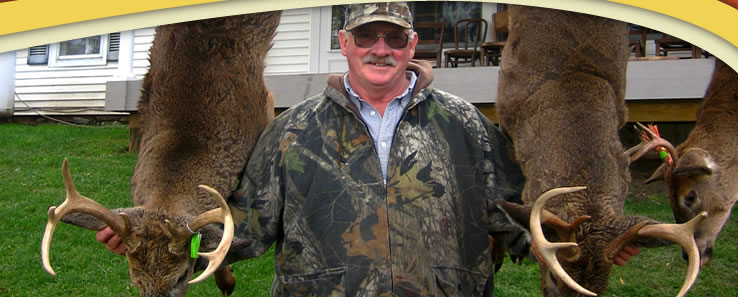 RATES
Our care and passion for your experience showed again last year with a 75% success rate on big game hunts for our 2011 deer season.


Rifle Season
$800 per person for a 3 day hunt for opening 3 days

$550 per person for 2 day hunt after after 2 days

$300 per person for a 1 day hunt after opening week


Muzzleloader
$550 per person 2 day hunt


Archery
$500 per person 2 day hunt

Rifle Season
Nov 15 - Dec 7

We maintain over 30 permanent tree stands and ground blinds to maximize your hunting success. You will be given every opportunity to harvest a great Catskill Mountain white-tail here. We will be there to help dress, drag, and cool your deer so that you have the best quality head for mounting and best venison possible. Great hunting and first class care is what we are all about. Book your hunt soon as dates fill fast.

* Our DEC rifle section is 4R in Greene County


Archery
Oct 1- Nov 14 & Dec 09-17

During the pre-rut season, we pattern deer going from bedding areas to cropland (corn & alfalfa) which is a key to the high rate of success for our bow hunters. Fall is a great time of year to be in the woods, hunter pressure is low and deer are abundant.


Muzzleloader
Dec 09- 17

Muzzleloader season continues to grow in popularity. No other deer season challenges the hunter as much as this one, and perhaps at no other time is the hunting pressure so low and the winter woods so beautiful and inviting.
Are you up for the challenge?
Bear Season 2014
Rifle   Nov 15 - Dec 7
Bow    Oct 1 – Nov 14,   Dec 09- 17
Muzzleloader      Dec 09 - Dec 17